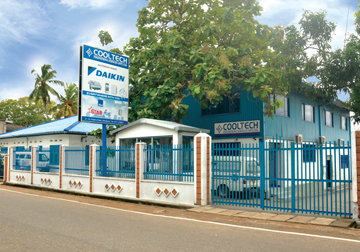 HEAD OFFICE AND WORKSHOP AT MORATUWA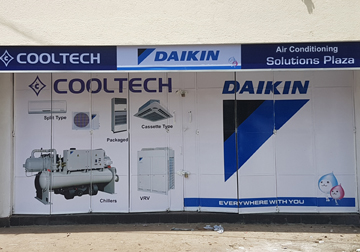 MARKETING OFFICE AT NUGEGODA
"COOLTECH ENGINEERING SERVICES" was established in April 1995 and thereafter it was registered as "COOLTECH ENGINEERING SERVICES (PVT) LTD" in January 1999.
We are proud to announce that COOLTECH ENGINEERING SERVICES (PVT) LTD will undertake Designing, Supplying, Installing, Servicing & Maintenance of all types of Air Conditioning Systems.
Also we undertake Supply & Installation of Exhaust Air & Fresh Air Mechanical Ventilation Systems including designing & fabricating of exhaust & fresh air ducting systems for kitchens, toilets & car parks.
We have been appointed as an Authorized Dealer for "DAIKIN" Air Conditioning Equipment from Daikin Air Conditioning (Singapore) Pte. Ltd, consist of Split Type, Inverter Type, MultiInverter Type, VRV Systems, Package Type & Central Air Conditioning Chillers in full range.
We are the sole agent for the "STAR" Air Conditioners imported from China, Manufactured by GUANGDONG CHIGO AIR CONDITIONING CO., LTD
We are the authorized agent for the "LIANG CHI" Water Cooling Towers imported from Thailand by LIANG CHI INDUSTRY (THAILAND) CO. LTD.